Driving School in Harrow, Middlesex
Welcome to New Turn! My driving school offers manual or auto driving lessons by male or female driving instructors lessons across Harrow, Pinner, Eastcote, Ruislip, Wembley, South Oxhey and Bushey.
Fully Qualified DVSA Approved Instructor
Driving School based in Harrow
All driving levels welcome
Calm and professional teaching enviroment
Manual & Auto driving lessons
Male & Female Instructors
One to one lessons - no car sharing
I am a fully qualified Driving Instructor, approved by the Driving and Vehicle Standards agency (DVSA) working across Harrow and the surrounding towns.
Our driving lessons take place in well maintained, air conditioned manual or automatic cars with a male or female driving instructor. We only teach one person in the car during a lesson - car sharing uses up lesson time and isn't fair on pupils paying for their lesson.
I keep the teaching enviroment calm, relaxed and professional to ensure that my pupils can concentrate on learning without any external worries.
Driving lessons will be customized for your level of driving ability and we can use our pupil progress card to track the lessons - this means you will be able to see your development.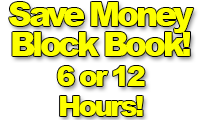 At the end of your course of lessons you will have the knowledge to drive a car safely in any situation and conditions on all types of road. You will of course, also be fully prepared for the Practical Driving Test. Should you have any questions about the Theory Test, I will be able to answer them for you.
If you are a nervous about learning to drive, I can help by starting your driving lessons in a quiet area where there are no distractions. This will enable you to build your confidence without being concerned about other road users.
I have a good knowledge of the roads in and around the Harrow, so I will be able to train you to handle all types of road conditions using the various areas in my teaching zone.
New Turn Driving School has some competitive offers for both beginners and partly trained learners. There's an introductory offer for ALL pupils (beginners and partly trained) that join New Turn of 1 hour for £15 and 3 hours for £60! Pre Paid lessons can be booked in 6 or 12 hour blocks, which will save money on the hourly lesson rate. Go to the driving lesson prices page for more details.
Book your Lessons with New Turn Driving School in Harrow...
Testimonials
Nov 2019
From: Manu, Bushey

Asif was my third instructor and was by far the best.
Easy to talk to, also helped me pass first time with no problems - would highly recommend.
---
Nov 2019
From: Sarah, Harrow


Asif is one of the best teachers I've ever had.
After moving to New Turn from another driving school the difference in quality teaching was night and day.
He had such a vast knowledge of the areas I was driving in and a clear goal to help me succeed.
Thanks once again.
---
Nov 2019
From: Shaun, Ruislip


Just passed my driving test 1st time!!
I want to boast about Asif he coached me patiently as I learnt to drive.
He was amazing the whole time so understanding and encouraging and for that thank you Asif.
---
Oct 2019
From: Mohammad, Wealdstone


Asif was the most fantastic teacher, he taught me all the essential things i needed to know to make sure i aced the exam.
If i didn't have him i'm sure i wouldn't have passed first time round.
---
Oct 2019
From: Lan, Harrow


I had a great experience learning to drive with Asif. He's always on point and shows real passion in his job.
He really ironed out the bad habits I had obtained, I would not have passed first time without him.
Massive thanks Sir. Bless
---
Oct 2019
From: Alina, Harrow


Asif is an amazing instructer. He let's you do the one thing most other instructers don't do enough of, and that is to actually drive!
He let's you know all the required tricks and tips for the exam routes and will allow you to get rid of bad habits.
A splendid teacher indeed!
---
Sept 2019
From: Asad, Harrow


Passed first time thanks to Asif.
Great training to quickly toughen you up, improve your awareness, and build confidence on the road.
---
Sept 2019
From: Shaini, North Wembley


I can only recommend the New Turn Driving School to future students wanting to learn to drive.
My teacher Asif was especially dedicated and motivated each lesson towards making me a safer driver as well as preparing me for the driving test.
Through the many mock tests and the positive feedback I felt prepared and at ease during my driving test. As a result I was able to successfully pass the first time.
Thank you!
---
Sept 2019
From: Alham, Harrow


Asif is a very knowledgeable and patient instructor. Together we came up with a plan for lessons and for the practical that worked for me.
I am happy to share that I did pass on my first try.
I don't know if I could have done it without Asif's instruction and support.
I highly recommend him!!
---
Aug 2019
From: Veena, South Harrow


I had the pleasure of having one of the best driving instructor who always explained and demonstrated things thoroughly, gave excellent advise all the time.
My queries were always followed up and answered, I was offered mentor sessions when I needed them.
Highly recommended
---
Aug 2019
From: Ameer, Eastcote


What a fantastic instructor. Very friendly, reliable and encouraging.
He is very balanced in his approach and manages to be kind but firm.
He keeps his instructions clear and concise and doesn't rest till the job is properly done. The added bonus is he does it all in a very cheerful way.
Absolutely recommended :) Thank you very much!
---
Aug 2019
From: Jay, Harrow


Just passed my test. Had the pleasure of being taught by Asif and I couldn't rate him high enough.
He ensured that I understood what was being taught and had a great approach to teaching me everything I needed to know!
Would definitely recommend!
---
Jul 2019
From: Dr Shahzab, Harrow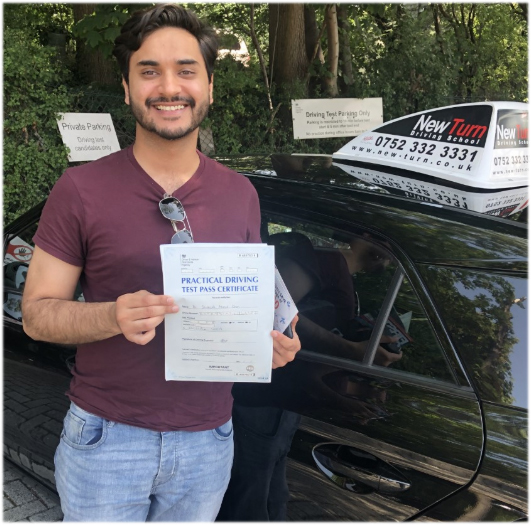 I had driving lessons from Asif which resulted in success.
His tricks about the possible test routes, tricky places, maneuvers and practical driving / parking helped me a lot.
I am more than happy from his assistance.
---
Jul 2019
From: Lan, Harrow


Just passed my test with Asif! Absolutely fantastic tuition, so patient and made me feel very much at ease.
Really helped prepare me for my test, covered all the routes, manoeuvres, questions and tips for the theory test too.
Best driving school in Harrow
---
Jul 2019
From: Pritesh, Greenford


Couldn't rate this place highly enough!!
Totally transformed my life.
Thank you New Turn
---
Jun 2019
From: Domenic, Harrow


Just passed my test today first attempt!
Asif is a fantastic instructor and is very easy to get on with! He explained things really well and helped build my confidence in my driving ability.
Would 100% recommend!!
---
Jun 2019
From: Priyanka, Pinner


Thanks a ton for helping me gain the confidence and eliminate all shortcomings which was inhibiting me to drive well.
It was with your professional guidance that I was able to clear my driving test with 0 faults :)
Really appreciate your teaching techniques.
You are the best instructor one can have :)
---
May 2019
From: Dilshad, Eastcote


Asif is an amazing instructor!
He is highly professional and very encouraging.
I was very nervous at first but he definitely made me feel at ease and corrected my driving faults.
Finally passed my driving test after having gone through a few different instructors - Highly recommend!!
---
May 2019
From: Sarah, Ruislip


Asif is a very systematic teacher who literally helps with the smallest driving details and is very easy to communicate with.
He helped me pass first time round.
Thank you!
---
May 2019
From: Kubs, Harrow


The instructor was very helpful, kind and understandable person.
I was recommended by two of my friends who have passed the first time. I passed my test the first time. All thanks to his work.
Thanks a lot and I recommend everyone to go with him.
---
Apr 2019
From: Jorden, Harrow


I had Asif as my instructor and he was the best of the best.
I passed second time with 1 minor after around 30 hours of lessons.
Asif is super patient and informative, takes the time to ensure you understand everything and gives you challenges to ensure you not only pass your test, but become a good driver.
Thank you.
---
Jan 2019
From: Mo, Harrow


Great instructor, gives a lot of attention and detail to help you improve. Improved how I drive!
Takes his job seriously and wants you to pass first time, just like I did.
Very friendly and understanding would highly recommend.
---
Jun 2017
From: Paulo, Stanmore


After switching from an impatient instructor to Asif I found driving much more enjoyable.
Asif is a calm guy who isn't quick to frustrate and let's you take full control with driving, not controlling clutch like my previous instructor.
Having done both automatic and manual with Asif, I feel confident with both types of cars, which is reflected in taking my manual test after only 6 hours of practice and passing, when I switched from driving automatic to manual.
A great guy and good instructor, relaxed and kind.
---
Jun 2017
From: Keera, Eastcote


I would highly recommend new turn driving school, he helped build up my confidence to go ahead and pass my test first time!
Always fitted lessons between my schedule and put me at ease every driving lesson!
I can't thank him enough.
---
Mar 2017
From: Ashvin, Kenton


I took my driving lessons with Asif who was so patient and kept me motivated right till the end.
Thank you Asif
---
Mar 2017
From: Kalpish, Harrow


Best driving instructor make it easy and simple.
First time pass.
---
Feb 2017
From: Metaish, Kingsbury


Passed my test first time thanks to the Asif.
Although I was nervous at first, he helped put my fears at rest with a good mix of humour and expert knowledge.
Highly recommend him and New Turn Driving School!
---
Feb 2017
From: Howard


Thanks to Asif, not only did I pass my test first time, I was also prepared for a future of safe driving.
He's consistently professional in his lessons and always giving great feedback. He went out of his way to plan the lessons around my schedule.
So thrilled with the results! Would recommend him to anyone.
I wish you all the best for the future!
---
Feb 2017
From: Mohammad, Harrow


Absolutely brilliant driving school, just passed my driving test first time after only 16 lessons thanks to Asif, can't give him enough thanks.
Highly recommended if you want a safe, enjoyable and a really productive driving experience.
---
Feb 2017
From: Fawad, Bushy


He was a brilliant instructor, he really helped me a lot and went above and beyond to help me pass, including giving up his spare time.
He always managed to get the lessons booked at times that suited me and was very patient and clear when driving.
I cannot recommend New Turn Driving highly enough!
---
Dec 2016
From: Yaseen, Wembley


Asif is a fantastic instructor and made me feel confident enough to do my driving test. He was so patient and calm, even if I wasn't!
I would highly recommend to anyone wanting to learn; New Turn is great driving school to learn.
---
Dec 2016
From: Andrew, Bushey


Asif was absolutely amazing, he really helped my confidence and definitely knew his stuff.
I cant imagine a better driving instructor, he knew the test routes off the top of his head, it was definitely worth the money.
---
Dec 2016
From: Cinamay, Eastcote


I would highly recommend New Turn Driving school to anyone wanting to learn how to drive.
Asif is an amazing instructor who gives you all the confidence you need in yourself, and always goes above and beyond to fit you in for a driving lesson.
---
Nov 2016
From: Billi, Bushy


I learnt to drive with New Turn Driving School and it was definitely the right choice.
My instructor was patient, knowledgable and helped me with my driving.
Would recommend to anyone.
---
Nov 2016
From: Benya, Harrow Weald


Everything seemed easier when learning with Asif!
I consider myself a fast learner, but I had trouble getting used to driving manual - Asif really pushed me how to deal with a manual car in a very easy way.
I'm pleased I chose New Turn Driving School
---
Nov 2016
From: Ally, South Oxhey


Really enjoyed my driving lessons.
My driving instructor in Harrow was brilliant and taught me so much in a short timeframe.
Highly recommend New Turn Driving school.
---
Nov 2016
From: Mekedlawit, South Harrow


I can't thank you enough for helping me pass the driving practical test, it was the right choice I made on the website.
Having failed my test with a different driving school, Asif built up my confidence with positive comments at end of each driving lesson.
Your instructions and driving techniques were in a simple and clear way; most of your tips covered the questions on the practical test and scheduling the lesson was flexible.
I would recommend Asif to the people would like to have a professional lessons.
Thank you so much..
---
Nov 2016
From: Daniel, Bushey


I passed my driving test in first attempt. Asif is a well trained, experience and qualified instructor.
Intially I had a few difficulties, however my instructor was really patient and helped me to find my confidence.
I would love to recommend New Turn to everyone.
---
Nov 2016
From: Grace, Harrow


I found New Turn a fantastic driving school
I am a very nervous person but my instructor was excellent and guided me through till the very end.
I honestly couldn't have done it, and passed without him.
---
Nov 2016
From: Alexandra, Sudbury Hill


I had a great experience learning with New Turn Driving School; my instructor was fantastic.
I always felt very relaxed during the driving lessons, and the guidance and advice always came across really well. The lessons were always well organised and were also tracked by messages which was helpful.
I also believe that the prices were very fair - highly recommended!
---
Oct 2016
From: Kait, Bushey


Many thanks to Asif for helping me pass my test 1st time at Watford with only 1 minor!!
He makes sure you do the best you can and knows exactly what the examiner is looking for!
Highly recommended
---
Oct 2016
From: Hira, Pinner


When it comes to driving, there are lots of driving schools that talk about professionalism and bespoke teaching styles but Asif makes it happen for you.
I was really scared and nervous of driving but Asif made it effortless. Not only I gained confidence in driving I began to enjoy it too.
I am really grateful to Asif who helped me pass.
Highly recommend New Turn Driving School.
---
Oct 2016
From: Andrew, Wembley


Very easy to book lessons and easy to keep track of what you have been doing.
Asif is a great instructor, makes you feel really comfortable, he's very patient and explains everything very clearly.
Highly reccomended.
---
Sep 2016
From: Hema, Wembley


My instructor was Asif. What an amazing instructor he is!
It was down to him pointing at the right things, helping me all throughout my journey to take a test that helped me get through in 1 go straight away, and with just one minor mistake!
---
Sep 2016
From: Lee, South Oxhey


Passed my test first time!!
All thanks to Asif - I would have never done it without you! Will not hesitate to recommend you!
Thank you again and see you around.
---
Sep 2016
From: Daniel, Stanmore


Asif was my instructor from day 1. He is extremely patient, kind, understanding and, above all, he is an fantastic teacher.
During your driving lessons he will provide you with all you need to know to pass your test, amd also to be a DRIVER. He will give you references for everything, from turning into a road to the manoeuvres.
He will also help you understand your mistakes and highlight them so that you don't repeat them again in the future.
He is a genuinely nice person who truly wants you to pass and will do the best to make you pass. For everyone that is looking for a driving instructor, New Turn is the best you can ask for.
---
Aug 2016
From: Alan, Harrow


I did all my driving lessons up to the test which i passed with Asif. I had a really good experience with Asif as an instructor.
He is very personable and easy to drive with. I highly recommend learning with him, he prepared me very well for the test and I passed my test first time. Thanks
---
Jul 2016
From: Nadine, Pinner


I learnt with Asif. He was amazing and a really good experience.
Passed first time, and the way of teaching was brilliant.
Would and will recommend to a friend to use New Turn driving School
Thank you very much New Turn!
---
Jul 2016
From: Megda, South Ruislip


My instructor was extremely professional and i could really feel my driving improving through out my course! By the time the test came i was more than confident & equipped to pass!
Thanks to Asif, He is a LEGEND! I would definitely recommend this company to anyone wanting to learn to drive!
---
Jun 2016
From: Kanita, Harrow


Having had a few instructors, I have to say that Asif was the best one and he helped me pass first time. Very reliable and kept to scheduled driving lessons and was also very flexible to accommodate lessons around my work life.
I am one of those drivers that gets very stressed out when on busy roads and but Asif was very patient, experienced instructor who understood what my weaknesses were and provided advice to help me overcome them.
Well worth the price for the level of teaching and knowledge.
---
May 2016
From: Ummema, Northwood Hills


Asif is an outstanding driving instructer who is so good at his job. I would recommend everyone to use him as he was excellent and helped me passed my test first time.
Thank you Asif and hope you all the success in the future.
---
Apr 2016
From: Sam, Pinner

Learning to drive with New Turn was an enjoyable experience. I learnt at a pace that suited me again without any pressure on time. My instructor Asif was really friendly and made me feel at ease behind the wheel, he was also very accommodating widen it came to booking lessons in and would collect me from various places (my house, work) for a lesson which was helpful and convenient.
My instructor told me when he thought I was ready for my test and I trusted his judgment which resulted in me passing my driving test first time.
Highly recommend New Turn driving school.
---
Apr 2016
From: Armaan, Ruislip

Fantastic service! Passed my driving test First time as Asif is Always on time for lessons, not one minute is wasted during the lessons so you don't feel as though you're not gaining anything. I'd definitely recommend to anyone wanting to start their lessons in regards to both the cost of driving lessons and the overall service...
Thank you very much New Turn Driving School
---
Mar 2016
From: Mehvish, Harrow

Asif helped build my biggest problem which was confidence. After a couple of driving lessons you're almost guaranteed to feel at ease. Easy to get along with and very helpful whenever he can.
Highly recommended driving instructor!
---
Feb 2016
From: Hamid, Pinner


I failed previously three times and every time I had different driving instructor, but when I met Asif I came to know how to really drive the car safely and come to know all the hidden questions, which all my previous instructors didn't tell me. Asif teachings are really easy to understand and follow, that's why I passed my practice driving test with 0 minor faults - all this because of New Turn.
Once again, thank you very much and really appreciate for polishing my driving skills and make me drive my own car.
---
Jan 2016
From: Wasaq, Kenton


I had the pleasure of learning to drive with New Turn driving School over a period of months. My driving instructor is a very experienced, patient, helpful and understanding instructor. From the get-go I felt very at ease during my driving lessons, and never felt overwhelmed or worried about the speed of tuition given. I passed on my very first test.
I highly recommend New Turn to any fledgling learner drivers, and shall also be recommending him to any and all friends that are looking for a good driving school
---
Jan 2016
From: Ashni, Bushey


I was lucky enough to find new turn from the beginning & I would not have been able to pass first time, if it wasn't for Asif.
Every lesson, from right at the beginning to our last lesson together was full of detailed information which allowed me to be improving by the day. He believed in my driving skills from very early on and helped me become a safe driver through his patience and relaxed teaching environment.
Thankyou so much Asif; definitely highly recommended to everyone.
---
Jan 2016
From: Naomi, Bushey


My experience with New Turn has been outstanding; passing my test with no driving faults, and that is all thanks to my driving instructor Asif!
My driving lessons with Asif were excellent; he is a very patient man, easy to talk to and I highly recommend him to anyone wanting lessons.
Once again. Thank you Asif *****
---
Dec 2015
From: Krishant, Wembley


I would like to say a big Thank You to Asif with whom I passed my driving test first time.
Asif made me feel comfortable throughout my learning with him. He is brilliant at keeping you calm and positive and I would not have passed my test without his help. I could not have asked for a better driving instructor and would recommend him to everyone.
Thanks for everything Asif
---
Oct 2015
From: Hussain, Harrow


I wasn't interested in driving till I met Asif. He made driving fun as he had both confidence and belief in my driving from day one. Asif both professionally and personally is amazing and I couldn't ever ask for a better instructor. His experience and skill led me to pass with first time with one minor which I could never ever imagine.
It'd be an understatement to recommend Asif. I just want to thank him for everything.
---
Oct 2015
From: Eliyas, Ruislip

Just a couple of words for Asif....
I am a 54 year old experienced driver from Somalia, and Asif is a lot younger than me in age, but with driving he has got double the sense and I wish I could have met him earlier. Today I passed my driving test because of his teaching. I would highly recommend him to all.
---
Sept 2015
From: Alba, Pinner


Thank you very very much Asif, to achieve my dream to pass the driving test. I am so so lucky I got you as my driving instructor, who is full of information and driving tips - not to just pass the test but also how to drive later on in real life on your own. Still can not believe I have passed.
Thank you once again and God bless you, you are fantastic and highly recommended instructor.
---
Aug 2015
From: Nadim, Harrow


I was very lucky to find new turn driving school and have got Asif to teach me driving lessons, As I was completely new to drive, every lesson was full of information, tips and detailed advises. Asif is a very patient and intelligent person and he was a great help. He has got a teaching talent and a very good sense of humor, which is a great help too.
He made me feel comfortable and confident on the road. It was very easy to communicate and to manage our lessons through out. I highly recommend. 5 stars*****
Big thanks and best regards
---
Jul 2015
From: Gowery, Eastcote


Thank you very much Asif for your training and information provided to me to pass my practical driving test in pinner.
Information was simple in detail and tailored to my needs. Asif is polite and the way he teaches is very enjoyable.
Highly recommended!
---
Jun 2015
From: Zahra


Being a learner at advanced level when I joined with New Turn, Asif helped me focus on my weaker areas - some which I was not previously aware of, thus helping me pass with flying colours. He is patient in his teaching and not intimidating, giving you a chance to ask questions, to which he will give you a thorough answer and explanation as to why, therefore improving your knowledge and driving experience for the years to come. For this, I would highly recommend New Turn Driving School to everyone I know!
---
May 2015
From: Tabasam

Very good instructor who knows the rules of the road very well. Really good at explaining the techniques and manoeuvres involved in driving and is very dedicated to seeing the success of his students. Extremely good at keeping you motivated and focused, especially at the trickiest steps. I would highly recommend being taught with this instructor, extremely pleased with the progress I have made with his teaching.
---
Apr 2015
From: Jason

Asif is such an outstanding driving tutor and I would recommend him to anyone wishing to learn in the Harrow or surrounding area. He is a firm but fair instructor offering nothing but the best tuition that he could possibly give to any learner. At first I was not very confident about learning to drive but Asif has given me all the confidence I need in order to pass my test with flying colours, he is also very patient with all of his pupils and gives constant reassurance to every individual so that they stay focused and learn about the danger and hazards of today's roads.
I would strongly recommend New turn to everyone I know! Thank you so much.
---
Apr 2015
From: Mariam

The first driving lesson I had with Asif was also the first time I had ever been behind a wheel. Within an hour I knew he was the right man for the job and I soon drove with knowledge and confidence.
His approach was both professional and friendly as lessons were well structured with focus on my weaker areas. Praise, encouragement and feedback were consistently given and I will remember this positive experience for years to come!
---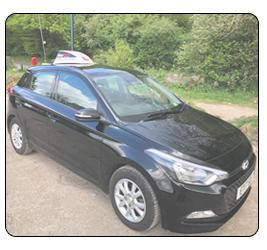 Qualified Instructor
DVSA Approved
Giving
one to one
Driving
Lessons